Sara Marcketti has been named interim director of the Center for Excellence in Learning and Teaching, effective July 24.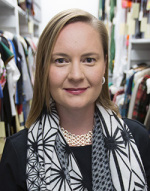 Marcketti, professor of apparel, events and hospitality management (AESHM), has served as CELT associate director since 2013. Her new appointment will extend through June 2018. Previous CELT director Ann Marie VanDerZanden was appointed associate provost for academic programs earlier this month.
"Sara has an impressive track record as associate director, and I am pleased she has agreed to serve in the interim role," said Dawn Bratsch-Prince, associate provost for faculty. "I have great confidence in her leadership and her ability to maintain CELT's momentum in areas like inclusive classrooms; flipped, hybrid and online pedagogy; and implementing Iowa State's new learning management system."
A native of New York, Marcketti holds a bachelor's degree in art history and master's in textiles, merchandising, and interiors from the University of Georgia; and a Ph.D. in textiles and clothing from Iowa State. She joined the AESHM faculty in 2005 and rose through the ranks from lecturer to full professor in just 10 years.
"I am excited for this opportunity to lead CELT's dedicated staff and work with faculty to support Iowa State's teaching academic mission," Marcketti said. "We have built a remarkable number of resources for faculty, staff, graduate students and post-docs over the last 24 years, and I look forward to continuing and growing the excellent work we are known for."
A search for the next permanent CELT director will be held during the spring semester.