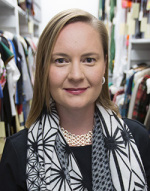 Sara Marcketti has been named director of the Center for Excellence in Learning and Teaching (CELT).
Marcketti, professor of apparel, events and hospitality management (AESHM), has served as CELT associate director since 2013 and interim director since July 2017. Her five-year appointment will extend through June 2023.
"Sara has demonstrated outstanding leadership during her year as interim director, leading CELT through a successful external review, and overseeing the university's transition from Blackboard to Canvas," said Dawn Bratsch-Prince, associate provost for faculty. "She is also an accomplished educator in her own right, with a strong focus on the scholarship of teaching and learning, and is a passionate advocate for student success."
Marcketti is active on numerous campus initiatives through her faculty and CELT roles. She leads workshops on documenting teaching effectiveness, turning scholarly teaching into the scholarship of teaching and learning, and student engagement and active learning strategies.
"It has been my honor and pleasure to lead the CELT staff this year," Marcketti said. "We have much to celebrate and I look forward to working with the CELT staff to ensure our workshops, programs and resources continue to provide the support instructors need along their teaching trajectory."
A native of New York, Marcketti joined the AESHM faculty in 2005. She holds a bachelor's degree in art history and a master's degree in textiles, merchandising and interiors from the University of Georgia, Athens. She earned a Ph.D. in textiles and clothing from Iowa State. Marcketti was named a fellow of the Costume Society of America earlier this year, the highest recognition awarded to faculty in her discipline.