Reading activities can be a great way to gauge student understanding of content knowledge, extend in-class discussions, and ensure student comprehension of key ideas. However, reading activities can often fall flat if the purpose of the readings is not clear to students. Check out our advice below on maximizing the full potential of reading activities, along with connecting digital course materials to your Canvas course.
Plan reading activities for your students
Align reading selections with the course or unit learning outcomes. 

Students may sometimes have difficulty understanding how readings are relevant to either the goals of a course or to a particular unit. By clarifying how specific texts align with course learning outcomes, students can understand the relevance of readings for developing core course competencies more clearly.

Reflect on how many students can realistically complete within a specific time frame. 

As an instructor, it's straightforward to assign too much reading! Use your past experiences with teaching particular reading assignments and your previous interactions with undergraduate students to gauge how much reading your students can complete to the best of your abilities. Chances are, you need to scale back rather than add on more assignments. Use the 

Course Workload Estimator 2.0 (Wake Forest) page

.

Offer students a preview of reading assignments. 

Particularly for difficult ones, offer students a brief preview of what they should expect from the reading, so students have a better sense of how to budget and manage their reading time.




Do not assign readings that you don't think students will have the time to complete. 

It's common for students to give up on reading assignments if the amount feels overwhelming. Try to gauge as realistically as possible how students can reasonably complete so much reading and respond to within a given time, guaranteeing a higher likelihood that students will continue to engage meaningfully with the reading assignments.

Only assign readings you know you will have a chance to follow up on and discuss. 

Students may lose motivation for completing reading tasks if they know they won't be responsible for the material. Only require readings for which you know you'll offer some follow-up or discussion, and be clear about what reading material is for student reference.
Engage students with small-group reading activities
Before you decide to use small-group work, read through the effective practices found on the facilitating group work page.
Create "reading circles." 

This suggestion, courtesy of 

Jane Gee at Faculty Focus

, gives students autonomy by allowing small groups to decide which readings they want to do from a curated list and then to each take on particular roles in discussing and breaking down the reading task.

Divide parts of the reading among small groups in the class. 

Less can be more. By dividing a larger body of text among multiple students, individual students will feel responsible for reporting back on the portion of the reading they're assigned. This step can create more profound and meaningful engagement with the reading by individual students while also creating a classroom community where students help and support each other in their learning.
Assess student understanding of the readings
Assign a reading response.

 When students know they are responsible for particular material by responding to a specific response question, they come to class – whether in a face-to-face or virtual environment – to feel more prepared to discuss essential parts of the material. Assigning a reading response for students to complete before an in-class meeting or a webinar will promote greater engagement. Students can even submit answers online before class; this can allow instructors to gauge in advance how students processed the readings.

Provide structured reading activities.

 Ask students to list "the top ten" essential concepts from a reading (See

 Sarah Clark's article on Faculty Focus 

for more on this strategy). Identify a question or two that students still have after completing the text or asking students to complete a reading response journal throughout the semester can be exceptional action items to help students engage meaningfully with course readings.

Create a low-stakes quiz for students to take. 

In an online, hybrid, or face-to-face class, a reading quiz can be an excellent way for both you and the students to assess their understanding of the readings. It can be incorporated into most learning management systems or developed through a separate quiz-making tool, like 

Quizlet

. Or, review the 

Low and High-Stakes Quizzes in Canvas page

.

Help students to read actively.

 Analyze their thoughts during and after reading to expand, clarify or modify their current thinking about the concepts or idea at hand. Based on Tomasek (2009) critical reading and writing prompts organized into six categories: (1) identification of problem or issue, (2) making connections, (3) interpretation of evidence, (4) challenging assumptions, (5) making applications, and (6) taking a different point-of-view. Here is a sample question for each category:
Identification of problem or issue: 

What is the fundamental issue/concept explained in the article? What are the complexities of the issue?

Making connections: 

How is your reading different from your prior knowledge around the issue/topic? 

Interpretation of evidence: 

What inferences can you draw from the evidence presented in the reading?

Challenging assumptions: 

If you get a chance to meet the author, what are the key questions you would ask the author?

Making an application: 

What are the lessons that you have drawn for your practice from this reading?

Taking a different perspective: 

Write a letter to your friend who has no expertise in this subject area, explaining the theoretical concept presented in the article?
Read students' reading responses. 

Reading responses can be a powerful way for students to assess their understandings of the readings. If you're not sure whether students understand key concepts, quickly read and evaluate students' responses. You don't have to give feedback on student reading responses. Instead, reading them and giving students some small credit for completing the answers can create student buy-in and help you assess how engaged the students are with the reading.
ISU Instructional Tools
Additional Tools
Tools like the 

Annotation Studio

 are fantastic for encouraging students to add notes collaboratively to a text. Instructors can create class pages in Annotation Studio to keep class works private and to create a community where students can see each other's thoughts on the readings.

Use Hypothesis

 to enable students to discuss readings asynchronously. To respond to a text using different media and empowering them to collaborate on understanding and developing ideas about their readings. Learn more from the 

Hypothesis website

.
Make the readings and course materials accessible
It is important to make your syllabus and course materials available to students as soon as possible, so students who may need more time can begin accessing materials. The most common strategy for increasing accessibility of course texts (which include any assigned readings, presentations, and handouts) is providing versions that are readable, especially by screen readers.
Most computers come equipped with a screen reader technology, which essentially converts printed text into auditory words to which the user can listen. For this technology to work, reading materials must be saved in a text file, such as a Word Document or Rich Text Format (RTF).
Converting materials from PDF or PPT to readable text increases accessibility to a wide variety of learners, including people with learning disabilities, literacy difficulties, visual impairments, or people who multitask. You may find some readable text versions of your course materials are already available. In other cases, you may need to prepare them.
Learn more about captioning and accessibility from CELT's Accessible Course Design page and ISU's Digital Access page.
Connect materials in Canvas with ISU Library and ISU Book Store
Protect yourself from copyright infringement and save your students money!
Engage directly with the ISU Library
The ISU Library makes it possible for faculty teaching remote classes to connect seamlessly through direct engagement with library staff, access to digital content, and collaboration across the University.
Make required course materials available directly through Canvas. 

Course Reserves staff will manage relevant copyright issues (including fees) related to posting or distributing this material, freeing instructors to focus on the classroom.
Most resources are available electronically to students 24/7, and they will save money on purchasing course packs.
Instructions for creating Reserve items within Canvas are available via the Course Reserves guide.

Discipline-Specific Resources: Populate your Canvas course with discipline-specific resources and databases, enable a chat with subject librarians and use discipline-specific FAQs. Use the ISU Library's Step-by-step instructions web guide.
To determine the best options for your course, use the Ask a Librarian page.
Employ digital course materials from the ISU Book Store
For assistance with digital course material needs, conversion from print to digital, contact the Iowa State University Book Store team via email:
Read the most up-to-date information about publishers, access, and more on the Digital Course Materials ISU Book Store webpage.
Helping students read difficult texts, Bean (2011)
Bean's (2011) Engaging ideas book contains a chapter titled "Helping students read difficult texts. This chapter includes the potential causes, strategies for students, assignment methods, and practices for teachers to help students become better readers. Bean's (2011) chapter's introduction stated,
"Many of today's students are inexperienced readers, overwhelmed by the density of their college textbooks and baffled by the strangeness and complexity of primary sources and by their unfamiliarity with academic discourse… The aim of this chapter is to suggest ways that we can help students become stronger readers, empowered by the strategies that we ourselves use when we encounter difficult texts" (p. 161).
Where to locate at Iowa State
Iowa State University community members may locate these resources and more (physical and online access available) at the Library. To begin, insert the title listed below into the Quick search via the ISU Library website.
Bean, J. (2011). Engaging ideas the professor's guide to integrating writing, critical thinking, and active learning in the classroom / John C. Bean ; foreword by Maryellen Weimer. (Second ed., Jossey-Bass higher and adult education series).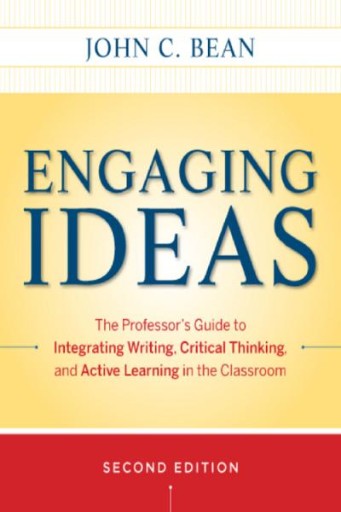 Reference
Tomasek, T. (2009). Critical reading: Using reading prompts to promote active engagement with text. International Journal of Teaching and Learning in Higher Education. Retrieved from https://files.eric.ed.gov/fulltext/EJ896252.pdf
Reading Activities, by the Center for Excellence in Learning and Teaching (CELT) at Iowa State University, is licensed under Creative Commons BY-NC-SA 4.0. This work, Reading Activities, is a derivative of Reading developed by University of California-Davis EdTech Commons (retrieved on May 13, 2020) from http://edtech.ucdavis.edu/teaching/reading/, and 2018-2019 Teaching Issues Writing Consortium's Teaching Tips (PDF) (retrieved on March 16, 2021) from https://www.aku.edu/qtl/Documents/teaching-tips-collection.pdf.