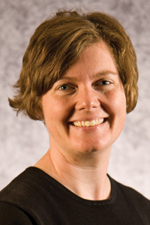 We have a new day/time for Associate Professor Monica Lamm's Award-Winning Seminar, "Authentic Problems: What to do when learners just aren't getting it?" This event will now be held on Wednesday, October 10 (12:10-1 p.m.)
Monica Lamm, Associate Professor, Chemical and Biological Engineering, Outstanding Achievement in Teaching awardee, uses ill-structured problems in her upper-level classes. Sometimes, these problem-solving exercises do not go according to plan. Participants in this workshop will learn practical ways to use authentic problems in their classrooms, how to lower barriers for students to engage with the sorts of undefined problems they will encounter in the workplace, and what to do when learners miss the mark. Learn how to maximize learning, critical thinking, and problem solving when conditions are not perfect. Participants are encouraged to share their own authentic classroom problems and inspire each other.
To register for the face-to-face program, visit the Learn@ISU website or view on your own via Zoom registration website).